Suit Filed Against LA County District Attorney's Office
This suit is filed on behalf of all California Taxpayers and will force the DA's Office, Family Support Operations, to pay the money it owes to families in the LA County area. We urge other individuals to file similar suits in other Counties where this type of Corruption is going on. $25 million has been pigeonholed by corrupt officials!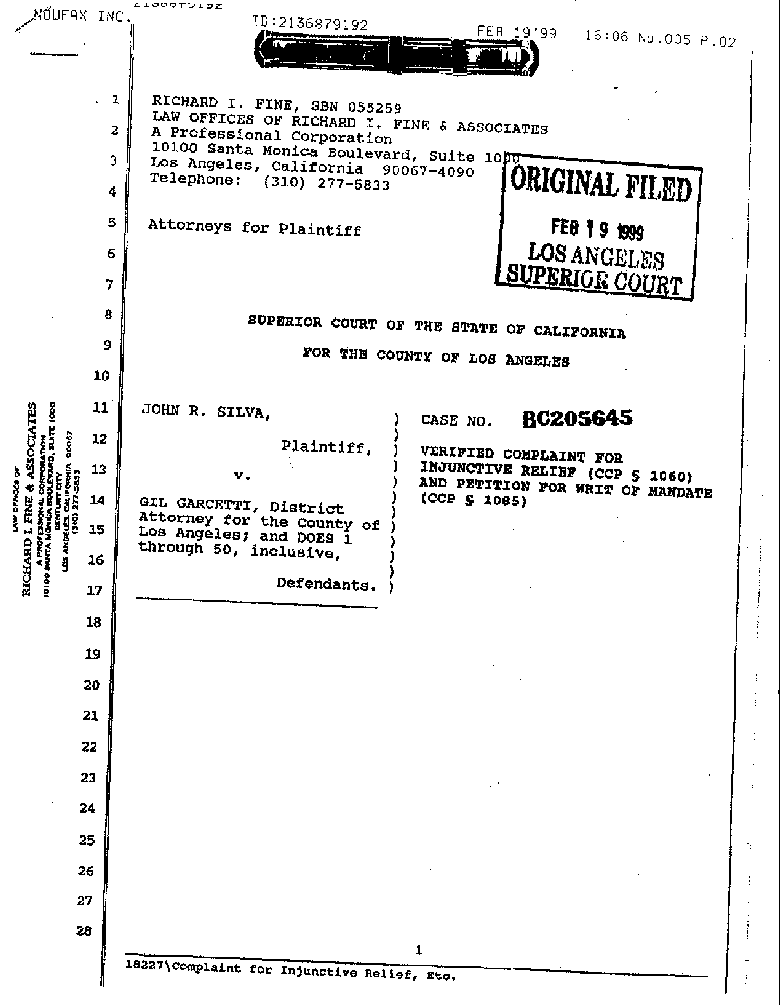 The text of this suit follows and can be used as a template for similar relief in other Counties across the nation. It costs taxpayers in California, $.40 for each dollar collected (but maybe not distributed) for child and spousal support. Many Counties do a worse job. (see Orlando Sentinel article). The text of the Complaint follows.
SUMMARY OF COMPLAINT

1. This Complaint requests injunctive relief and a writ of mandate requiring Defendant GIL GARCETTI1 the District Attorney for the County of Los Angeles, to immediately disburse approximately $25 million which he is "holding" as "Child Support Collections on Hold" and which he is not paying to the custodial parents to whom a portion of such monies are due, the County of Los Angeles welfare department, to whom a portion of such monies are due, and to the payors of such funds who, by law, must be paid a refund of monies paid in the event that the custodial parent is not located within six months from the time of payment.

2. The District Attorney has admitted to the Los Angeles County Board of supervisors in a Memorandum dated October 9, 1998, That a minimum of $18 million is being held as "Child Support Collections on Hold" as of October 1998.

2. The Los Angeles County District Attorney's authority to collect child support payments is set forth in sections 4200, 4201, 4203 and 4204 of the Family Code. Section 4203 makes the County of Los Angeles, i.e., the taxpayers, responsible for expenses and fees incurred in the collection of child support payments. Further, the Welfare and Institutions Code, section 11475.3 et seq., governs the actions of the District Attorney. In particular, section 11475.3 requires that the District Attorney make all reasonable efforts to locate the obligee of child support payments for a period of six months and deliver the payments to such obligee. If the District Attorney is unable to locate the obligee within the six-month period, he or she shall return the undeliverable payments to the obligor. Further, pursuant to section 11475.3, in the event that the child is receiving aid, the first $50.00 of any amount of child support collected in a month shall be paid to the recipient.

4. In fiscal year 1997-98 the Los Angeles County District Attorney's Office collected approximately $257 million in child support payments. The cost to the public for such collections in fiscal year 1997-98 was approximately $104,809,000.00, or approximately $.40 for every dollar collected.

5. As of the present time, neither the United States government, the state of California, nor the County of Los Angeles have taken any action requiring the District Attorney to disburse the monies on "hold". This failure is causing the taxpayers, the recipients of the child support, the welfare system, and the payors of child support to suffer hardship on a daily basis.

DESCRIPTION OF PLAINTIFF

6. Plaintiff JOHN R. SILVA is a citizen of California and a resident of the County of Los Angeles. Plaintiff has filed state tax returns and has paid taxes in the County of Los Angeles for the past five years. Plaintiff has paid child support payments to the Court Trustee pursuant to a court order dated November 29, 1989, commencing at such tine as his former wife received Aid for Dependent children ("AFDC"} payments for the six-month period of time from August 1989 through February 1990. Such child support payments by Plaintiff were $135.00 per month, plus a 2% service charge of $2.70, for a total monthly payment of $137.70.

7. plaintiff brings this suit as a party acting for the interests of himself and all taxpayer contributors to the County of Los Angeles District Attorney's Office Bureau of Family Support, child Support Collections Fund, as paid to the Court Trustee or such other person ordered by the court.

DESCRIPTION OF DEFENDANTS

8. Defendant GIL CARCETTI ("Garcetti") is the District Attorney of the county of Los Angeles. Garcetti is the chief Enforcement Officer for the collection of child support payments ordered by the court to be paid to the Court Trustee. He maintains a unit entitled "The family Support Unit" whose "Mission Statement" is to enforce the financial responsibility of parents to support their children. Such unit is entitled "The Los Angeles County District Attorney's Office Bureau of Family Support operations". Such unit had a budget for fiscal 1997-98 of approximately $104,809,000.00. Such unit collected in fiscal year 1997-98 approximately $257 million. Such unit failed or refused to disburse to lawful recipients, including custodial parents, the County of Los Angeles Welfare Department, and individuals who paid into the Child support Collections Fund by court order and the custodial parents to whom such funds should have been paid were not located within six months of date of payment.

9. The Los Angeles county District Attorney's authority to collect child support payments is set forth in sections 42OO, 4201, 4203 and 4204 of the Family Code. section 4203 makes the county of Los Angeles, i.e., the taxpayers, responsible for expenses and fees incurred in the collection of child support payments. Further, the Welfare and Institutions Code, section 11475, et seq., governs the actions of the District Attorney. In particular, section 11475.3 requires that the District Attorney make all reasonable efforts to locate the obligee of child support payments for a period of six months and deliver the payments to such obligee. If the District Attorney is unable to locate the obligee within the six-month period, he or she shall return the undeliverable payments to the obligor. further, pursuant to section 11475.2, in the event that the child is receiving aid, the first $50.00 of any amount of child support collected in a month shall be paid to the recipient.

10. Plaintiff is ignorant of the true names and capacities of those Defendants sued herein as DOES 1 through 50, inclusive, and therefore sues said defendants by said fictitious names. Plaintiff will ask for leave to amend this complaint to show the true names and capacities of said Defendants when the same have been ascertained. plaintiff is informed and believes, and thereupon alleges, that each of said fictitiously named Defendants is responsible, in some manner, for the acts, occurrences, and omissions alleged herein and proximately responsible for Plaintiff's damages.

11. plaintiff is informed and believes, and thereon al- leges, that, at all times mentioned herein, GARCETTI and each of the DOE Defendants, acted as agents, servants and employees of one another, and that each of the acts of GARCETTI and said DOE Defendants described herein occurred within the course and scope of said agency and/or employment.

STANDING

12. Plaintiff J0HN R. SILVA is a "taxpayer". plaintiff brings this suit on behalf of himself, on behalf of all other persons and entities paying taxes into the general revenue of the state of California, and on behalf of all residents of the state of California, and the county of Los Angeles, with an interest in having the laws of the state of California properly executed and the duties of its public officials properly carried out. Plaintiff is duly authorized to bring this action to enforce a public right and to procure enforcement of a public duty. Plaintiff has paid child support payments to the Court Trustee pursuant to court order. Plaintiff is duly authorized to bring this suit on behalf of all individuals who have paid child support payments to the Court Trustee pursuant to court order and on behalf of all persons or entities to whom such payments should be disbursed.
13. Plaintiff is duly authorized to bring this action and to seek injunctive relief under section 526a of the California Code of Civil Procedure.

14. Plaintiff is duly authorized to bring this action as a taxpayer of the state pursuant to section 526a of the California Code of Civil Procedure to require GARCETTI to immediately disburse approximately $25 million which he is "holding" as "Child Support collections on Hold" and which he is not paying to the custodial parents to whom a portion of such monies are due, the County of Los Angeles Welfare Department, to whom a portion of such monies are due, and to the payors of such funds who, by law, must be paid a refund of monies paid in the event that the custodial parent is not located within six months from the time of payment.

15. Plaintiff is duly authorized to bring this action as a taxpayer pursuant to section 526a of the California Code of Civil Procedure, and for a writ of mandate pursuant to section 1085 of the California code of Civil Procedure, to require GARCETTI to immediately disburse approximately $25 million which he is "holding" as Child Support Collections on Ho1d" and which he is not paying to the custodial parents to whom a portion of such monies are due, the county of Los Angeles welfare Department, to whom a portion of such monies are due, and to the payors of such funds who, by law, must be paid a refund of monies paid in the event that the custodial parent is not located within six months from the time of payment. The acts which GARCETTI is required to perform are ministerial acts.

16. Plaintiff bas sent a demand letter to the County of Los Angeles demanding that it bring suit to require GARCETTI to immediately disburse approximately $25 million which he is "holding" as "Child Support Collections on Hold" and which he is not paying to the custodial parents to whom a portion of such monies are due, the County of Los Angeles Welfare Department, to whom a portion of such monies are due, and to the payors of such funds who, by law, must be paid a refund of monies paid in the event that the custodial parent is not located within six months from the time of payment. A true and correct copy of said demand letter, marked as Exhibit "1", is attached hereto and incorporated herein as if set forth in full.

ALLEGATIONS FOR ALL CAUSES OF ACTION

17. On September 6, 1984, plaintiff was ordered to pay support and maintenance of their minor child in the sum of $150.00 per month, on the 31st of each, commencing August 31, 1984. Such order did not require such payments to be made through the court. A true and correct of such September 6, 1984, Order is attached hereto, marked as Exhibit 2, and incorporated herein by reference as if set forth in full.

18. On March 4. 1985, a judgment was entered in the case of John Ray Silva v. Suzette Rene Silva, Los Angeles Superior Court Case No. NVD 02301, dissolving the marriage as of March 4, 1985, and ordering support of the minor child at $125.00 per week, commencing February 11, 1985. such order did not require payments to be made through the court. A true and correct copy of such March 4, 1985, Order is attached hereto, marked as Exhibit 3, and incorporated herein by reference as if set forth in full.

19. On July 18, 1985, such order was modified to be $325.00, payable on the 1st and 15th of each month, as of October 15, 1985. such order did not require payments to be made through the court. A true and correct copy of the July 18, 1985, Order is attached hereto, marked as Exhibit 4, and incorporated herein by reference as if set forth in full.

20. In or about August 1989, Plaintiff's former wife received AFDC payments. such payments continued from August 1989 through February 1990, i.e., a seven-month period. such payments discontinued in February 1990 and have never been recommenced.

21. On November 29, 1989, the July 18, 1985, order was modified to reduce child support to $135.00 per month, retroactive to November 1, 1989, and payments were required to be paid through the Court Trustee, in and for the County of Los Angeles, State of California, for the first time, pursuant to Civil Code section 4702(a) (welfare), as stated on the order. A true and correct of the November 29, 1989, Order is attached hereto, marked as Exhibit 5, and incorporated herein by reference as if set forth in full.

22. Plaintiff made all of the payments and complied with his obligation as shown by the affidavit of Suzette Rene Silva, dated October 1, 1998. A true and correct of said affidavit is attached hereto, marked as Exhibit 6, and incorporated herein by reference as if set forth in full.

23. Despite all of the payments having been made, on November 9, 1997, the Los Angeles County District Attorneys Office, Bureau of Family Support Operations, filed a Notice of Garnishment on plaintiff's wages for child support arrearages as of October 31, 1997, in the sum of $64,482.26, and commenced deducting $2,069.46 per month from his paycheck. A true and correct copy of said Notice of Garnishment is attached hereto, marked as Exhibit 7, and incorporated herein by reference as if set forth in full.

24. On January 16, 1998, Plaintiff met with the County of Los Angeles District Attorney's Office Bureau of Family Support Operations and executed a stipulation, without prejudice, alleging that child support in the amount of $64,412.48 was owed. Such stipulation was executed in error at the insistence of the Los Angeles County District Attorney. A true and correct copy of said stipulation is attached hereto, marked as Exhibit 8, and incorporated herein by reference as if set forth in full.

25. Such stipulation was not filed with the court.

26. On January 20, 1998, four days later, Plaintiff filed a revocation of such stipulation with the Los Angeles County District Attorney's office. A true and correct copy of such revocation is attached hereto, marked as Exhibit 9, and incorporated herein by reference as if set forth in full.

27. On February 16, 1998, despite the Stipulation having been revoked by Plaintiff on January 20, 1998, the Los Angeles County District Attorney's Office executed the Stipulation, without plaintiff's knowledge.

20. On March 18, 1998, despite the stipulation having been revoked on January 20, 1998, the Los Angeles County District Attorney's Office on an ex parte basis, with Plaintiff's knowledge, filed the stipulation containing the false arrearage of $64,412.48 and requiring payments of $860.00 on the first day of each month, commencing February 1, 1998, and obtained the signature of R. Lee, Judge Pro Tem, ordering such false stipulation. A true and correct copy of such false Stipulation and Order, containing the signature of Judge R. Lee, is attached hereto, marked as Exhibit 10, and incorporated herein by reference as if set forth in full.

29. Such Stipulation and Order showed a case number NVD 0002301, while the revoked stipulation showed a case number of 012.007.350. The stipulation filed by the Los Angeles County District Attorney had been falsified as to the case number, in addition to having been filed after such had been revoked.

30. Such Stipulation and Order also shows that it was signed on behalf of the Los Angeles County District Attorney's office by Deputy District Attorney Jodi A. Sherman on February 12, 1998, approximately 22 days subsequent to the stipulation having been revoked. A comparison of the stipulation with the Stipulation and Order shows that the revoked stipulation did not contain a signature of the Deputy District Attorney.

31. On or about January 20, 1998, the County of Los Angeles Office of the District Attorney, Bureau of Family Support Operations, sent to the Department of Public Social Services a request to them to provide aid for dependent children case record information for the child Charmaine Silva, daughter of Plaintiff and Suzette Rene Silva. Such request showed that direct child support payments were made to the custodial parent for the period of June 29, 1989, onwards. A response was received on April 13, 1998, showing aid paid to the family commencing in August 1989 through February 1990, in the amount of $3,106.00. A true and correct copy of said request and response is attached hereto, marked as Exhibit 11, and incorporated herein by reference as if set forth in full.

32. On January 29, 1998, the Los Angeles County District Attorney, Bureau of Family Support Operations, sent Plaintiff a Child Support Consumer credit Report Notification showing a current monthly support obligation of $1,130.00 as of January 29, 1998, for a total amount of $96,080.71. A true and correct copy of said Notification is attached hereto, marked as Exhibit 12, and incorporated herein by reference as if set forth in full.

33. On December 1, 1998, the Los Angeles County District Attorney's Office provided a Summary of Account for John R. Silva commencing February 11, 1985, falsely claiming monies for total welfare and non-welfare child support arrears in the amount of $61,670.00. A true and correct copy of such Summary of Account is attached hereto, marked as Exhibit 13, and incorporated herein by reference as if set forth in full.

34. On December 1, 1998, the Los Angeles County District Attorney's Office provided a Summary of Account for John R. Silva commencing February 11, 1985, falsely claiming monies for welfare child support arrearages in the amount of $57,911.95. A true and correct copy of said Summary of Account is attached hereto, marked as Exhibit 14, and incorporated herein by reference as if set forth in full.

35. Such claims are being contested in Los Angeles Superior Court Case No. NVD 0002301 in which a hearing has been set for September 15, 1999.

36. The accountings by the Los Angeles County District Attorney's Office, as set forth in Exhibits 13 and 14 hereto, are false as shown by the comparison of payments set forth in Exhibit 15 hereto, which sets forth payments made to Plaintiff's former wife and to the Court Trustee. No monies are owed by Plaintiff, to Plaintiff's knowledge.
37. Despite the collection of payments from 1989 onwards by the Court Trustee, the Los Angeles County District Attorney's Office has not made any payments or has underpaid the Los Angeles County "Welfare Department", and further has only made payments of approximately $130.00 per month to Plaintiff's former wife, thereby underpaying Suzette Rene Silva, even though Plaintiff had paid up to $900.00 per month, under the garnishments.

38. During fiscal year 1997-98 the Los Angeles County District Attorney's Office collected $257 million in child support payments.

39 Of such monies, as of October 9, 1998, according to the Los Angeles District Attorney's Office's Memorandum to the Board of Supervisors entitled "Child Support Collections on Hold", $18 million of such monies is being held and not being paid to the custodial parent or the Welfare Department. A true and correct copy of such Memorandum is attached hereto, marked as Exhibit 16, and incorporated herein by reference as if set forth in full.

40. Newspaper reports show the amount of money "on hold" to be as much as $25 million as of October 11, 1998.

41. Much of the $18-25 million is owed to families who can be located. The Los Angeles County District Attorney's office admits that at least 14,OOO families who have claims to these monies have not been found. Under state law, as set forth above, if a family cannot be located, the money paid must be refunded to the paying parents after six months. Such has not occurred and, instead the Los Angeles County District Attorney's Office has refused to refund any such monies. Further, the Los Angeles County District Attorney's Office has also admitted, in The October 9, 1998, Memorandum, that it puts money on "hold" if a dispute exists between the Los Angeles County District Attorney's office and the non-custodial parent as to the amount of money owed, and if questions exist between the Welfare Department and the custodial parent as to the division of the money collected.

42. The amount of taxpayer money paid to the Los Angeles County District Attorney's Office to collect support payments in fiscal year 1996-97 was $89,184,924.00. The amount budgeted for such collections in fiscal year 1997-98 was $104,809,000.00. The amount proposed to be budgeted for such collections for fiscal year 1998-99 is $113,959,0OO.00. A true and correct copy of page 18.3 of the County of Los Angeles 1998-99 Proposed Budget volume I, showing such cost figures is attached hereto, marked as Exhibit 17 and incorporated herein by reference as if set forth in full.

FIRST CAUSE OF ACTION
FOR PRELIMINARY. PERMANENT AND MANDATORY INJUNCTIVE RELIEF

43. Plaintiff incorporates by reference paragraphs 1 through 32, and each of them above, as though fully set forth herein.

44. Unless GARCETTI is required to immediately disburse approximately $25 million which he is "holding" as "Child Support Collections on Hold" and which he is not paying to the custodial parents to whom a portion of such monies are due, the County of Los Angeles Welfare Department, to whom a portion of such monies are due, and to the payors of such funds who, by law, must be paid a refund of monies paid in the event that the custodial parent is not located within six months from the time of payment, the legal requirements that such monies be disbursed to the parental custodian, the County of Los Angeles "Welfare Department", and the payors of such payments, will be violated.

45. Plaintiff and the taxpayers do not have any adequate remedy at law to require the Los Angeles County District Attorney's Office to perform their statutory duties and disburse such monies Unless such preliminary, permanent, and mandatory injunction is issued, plaintiff and the taxpayers will continue to suffer undue hardship which cannot be remedied by any damages, since the Los Angeles County District Attorney's Office is funded by the taxpayers.

SECOND CAUSE OP ACTION
FOR WRIT OF MANDATE

46. Plaintiff incorporates by reference paragraphs 1 through 42, and paragraphs 44 and 45, and each of them above, as though fully set forth herein.

47. Plaintiff does not have any adequate remedy at law, or otherwise, for the harm and damage which has been, and will be, caused by GARCETTI'S continued refusal to comply with the laws of the State of California and to immediately disburse approximately $25 million which he is "holding" as "Child Support Collections on Hold" and which he is not paying to the custodial parents to whom a portion of such monies are due, the County of Los Angeles Welfare Department, to whom a portion of such monies are due, and to the payors of such funds who, by law, must be paid a refund of monies paid in the event that the custodial parent is not located within six months from the time of payment.

48. By his actions, through the failure to immediately disburse approximately $25 million which he is "holding" as "Child Support Collections on Hold" and which he is not paying to the custodial parents to whom a portion of such monies are due, the County of Los Angeles Welfare Department, to whom a portion of such monies are due, and to the payors of such funds who, by law, must be paid a refund of monies paid in the event that the custodial parent is not located within six months from the tine of payment, GARCETTI has failed, and is failing, to perform the legal duties required of him under the laws of the State of California.

REOUEST POR ATTORNEYS' FEES

49. This Court has the power under the "substantial benefit doctrine" to award attorneys' fees to a plaintiff where the litigation has conferred a substantial nonpecuniary benefit on others.

50. This court has the power under Code of Civil Procedure section 1021.5, the "Private Attorney General Doctrine," to award attorneys' fees to Plaintiff where (a) a significant benefit, whether pecuniary or nonpecuniary, has been conferred on the general public or a large class of persons, (b} the necessity and financial burden of private enforcement are such as to make the award appropriate, and (c) payment of such fees is more appropriately made by Defendants rather than from the recovery of funds at issue in the action.

51. This court has the power under the equitable "common fund" doctrine to award attorneys' fees to Plaintiff where the recovery of monies from a fund benefits others as well as plaintiff.

52. This court has the power under Government code section 800 to award attorneys fees to a plaintiff where the actions of a public entity or official are found to be wholly arbitrary or capricious.

PRAYER FOR RELIEF

WHEREFORE, Plaintiff requests judgment as follows:

1. For a Preliminary and Permanent Injunction requiring GARCETTI, his agents, servants, assigns, officers, attorneys, successors, individuals within his control or under his supervision, as well as all others acting in concert with him, to immediately disburse approximately $25 million which he is "holding" as "Child Support Collections on Hold" and which he is not paying to the custodial parents to whom a portion of such monies are due, the county of Los Angeles Welfare Department, to whom a portion of such monies are due, and to the payors of such funds who, by law, must be paid a refund of monies paid in the event that the custodial parent is not located within six months from the time of payment.

2. For Mandatory Injunction requiring GARCETTI, his agents, servants, assigns, officers, attorneys, successors, individuals within his control or under his supervision, as well as all others acting in concert with him, to immediately disburse approximately $25 million which he is "holding" as "Chi1d Support Collections on Hold" and which he is not paying to the custodial parents to whom a portion of such monies are due, the County of Los Angeles Welfare Department, to whom a portion of such monies are due, and to the payors of such funds who, by law, must be paid a refund of monies paid in the event that the custodial parent is not located within six months from the time of payment.

3. For a peremptory writ of mandate mandating that GARCETTI immediately disburse approximately $25 million which be is "holding" as "Child Support Collections on Hold" and which he is not paying to the custodial parents to whom a portion of such monies are due, the County of Los Angeles Welfare Department, to whom a portion of such monies are due, and to the payors of such funds who, by law, must be paid a refund of monies paid in the event that the custodial parent is not located within six months from the time of payment.

4. For reasonable attorneys' fees incurred herein under the "Substantia1 Benefit Doctrine", the "private Attorney General Doctrine", or the "Common Fund Doctrine".

5. For costs of suit incurred herein; and,

6. For such other and further relief as this Court may deem just and proper.


Dated: February 19, 1999 LAW OFFICES OF
RICHARD I. FINE & ASSOCIATES
A professional corporation



By: [signed]
RICHARD I. FINE
Attorneys for plaintiff



---
---
Copyright © Design Systems, Inc. All rights reserved.
Last update 03/18/99